---
Pictures from the holidays
Monday, January 6, 2003 |
Permalink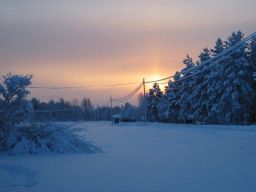 The pictures from the holidays are up. Click the headline for the goods.
---
---
davepermen
Saturday, January 11, 2003
hm. wich os.. hm.. was it linux?
---
JD
Monday, January 13, 2003
That winter shot reminds me of NOLF2. Very nice pic. The way gfx are going lately it might be possible to code something like this up.
---
Phyz
Friday, January 17, 2003
Wheres the download link for this demo? It looks really realistic!
---
Leonard
Sunday, January 19, 2003
What a beautiful place there.Is this Norway?
---
Humus
Monday, January 20, 2003
Nope, even better ... Sweden.
---