"A government that robs Peter to pay Paul can always depend upon the support of Paul."
- George Bernard Shaw
More pages:
1
2
3
4
---
Cloth simulation demo
Friday, December 19, 2003 |
Permalink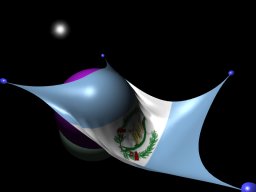 One of the coolest demos so far.

Get it while it's hot.
---
---
Humus
Wednesday, January 7, 2004
utrion,
all physics in done real-time. Nothing is precalculated. It should be possible to let a user manipulate the objects. Not sure if I'll implement it though. We'll see.
---
strepto
Friday, January 9, 2004
Yesss!!! OpenGL!!!
I thought you were giving up on OpenGL...
---
Humus
Friday, January 9, 2004
Nah, just waiting for official GLSL support.

---
Allen
Sunday, June 6, 2004
Actually Nvidia boards do support GLSL. You just need drivers 56.68 or higher which you can get from http://developer.nvidia.com. I have a GeForce FX and I use GLSL all the time.
---
More pages:
1
2
3
4