"When I despair, I remember that all through history the way of truth and love has always won. There have been tyrants and murderers and for a time they seem invincible, but in the end, they always fall -- think of it, ALWAYS"
- Mohandas K. Gandhi
More pages:
1
2
---
New cel-shading demo
Monday, February 21, 2005 |
Permalink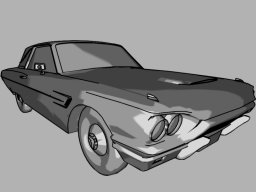 Some cartoonish graphics for ya.

---
---
MessfuerFrauSchmid
Friday, April 15, 2005
Why use such a complicated sillhouette extrusion when you could use edge detection filters, I guess they would be much, much faster.
---
Twixn
Saturday, April 16, 2005
Acceptable and fast is always better than accurate and slow
---
More pages:
1
2