"Congress is so strange. A man gets up to speak and says nothing. Nobody listens - and then everybody disagrees."
- Boris Marshalov

More pages:
1
2
3
4
5
6
7
8
9
10
11
...
21
...
31
...
41
...
48
---
Geometry Buffer Anti-Aliasing
Monday, July 18, 2011 |
Permalink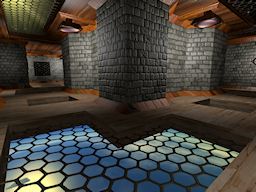 There is a new demo up demonstrating another anti-aliasing technique called GBAA (Geometry Buffer Anti-Aliasing). Like GPAA it uses actual geometry information, but stores it in a fullscreen buffer. This should scale better with dense geometry and additionally allows alpha-tested edges to be anti-aliased.
[
9 comments
|
Last comment by Yours3!f (2012-03-04 22:17:17)
]
---
Updates
Monday, May 30, 2011 |
Permalink
So it's been a little while since my last post. The main reason for that is that I'm in the middle of moving to a new apartment and trying to sell the one I'm living in now, and for most of the time my main computer has been packed into a box. I'll be stuck on my laptop for a while yet, but everything will be back to normal soon.
So what's new?
1) I'll be talking at Siggraph in the
Filtering Approaches for Real-Time Anti-Aliasing
course. I'll be covering a technique called Geometry Buffer Anti-Aliasing, a technique I have a working prototype of on my main computer, but haven't had the chance to release yet because my computer is in a box, but once that's resolved I will release a demo of it.
2) I'll be covering about the same topic in
GPU Pro 3
.
3) My wife's belly is getting larger by the day and we're both getting increasingly excited about becoming parents.

4) After signing up to Twitter I was taken by surprise by the amount of people who cared enough to follow my tiny bits of wisdom and mini-rants. The first days my mailbox to spammed to death by "[xyz] is now following you on twitter" email, which was interesting. Now it's more of a steady trickle, which is interesting to watch and find out what kind of people are following me. If you didn't sign up yet, you can find me
here
.
[
7 comments
|
Last comment by drp (2011-08-23 02:22:27)
]
---
Announcing the next generation
Friday, April 29, 2011 |
Permalink
This is the current version: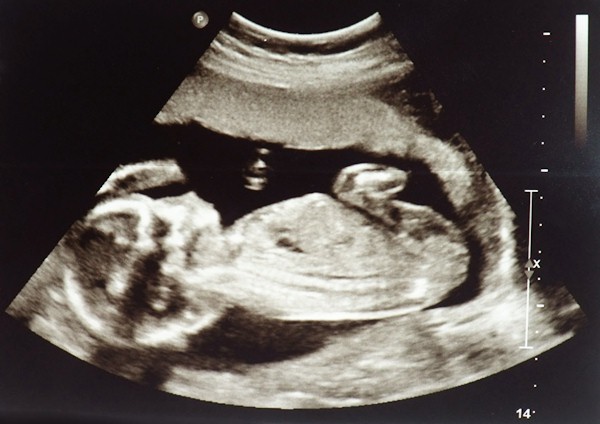 Final release is expected at September 21.

[
20 comments
|
Last comment by Jaillum Malord (2011-06-27 00:53:38)
]
---
GPAA explained
Monday, March 14, 2011 |
Permalink
I've added an illustration for the GPAA technique with a little more explanation in the demo description.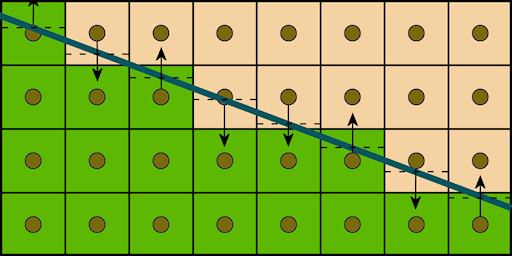 The wide line is the geometric edge. The arrows show how the neighbor pixel is chosen. The dashed lines shows the value of line equation for that pixel, which is used to compute the coverage value.
[
0 comments
]
---
Geometric Post-process Anti-Aliasing
Saturday, March 12, 2011 |
Permalink
I have a new demo up demonstrating a post-process antialiasing technique. Antialiasing algorithms generally come with four letter acronyms, like MSAA, SSAA, CSAA, MLAA, SRAA etc., so in that tradition I think GPAA (Geometric Post-process Anti-Aliasing) would be a decent name for this one. It works by using the actual geometric information in the scene to figure out how to blend pixels with the neighbors.
Here's a comparison before and after applying GPAA:

[
21 comments
|
Last comment by mkhaled (2011-06-07 16:09:38)
]
---
I'm now on Twitter
Wednesday, March 2, 2011 |
Permalink
As with all kinds of "social" stuff, I'm late to jump onto the bandwagon. I transformed my personal homepage to a blog long after blogging turned cool.
I joined Facebook long after everyone else did. Seemed like a waste of time to me. Eventually I kind of realized the value of it, it keeps you connected to a lot of people that you otherwise would not keep in touch with. Although it's true it can easily become a time sink. You just need to learn to filter out the noise.
So this Twitter thing came along. For a long while I thought it was pretty pointless. Well, recently I've been reading some people's twitter regularly and kind of realized the value. It's a great way to share thoughts, links and short insights to other people that might be interested. Things you have no time to write a lengthy blog post about, or don't really make sense in blog form. Of course, it's a matter of following the right people. So I finally signed up. And I even tweeted. I have no idea how frequently I will tweet, but I'm sure I will have something of interest once in while.

An unfortunate consequence of being late is that the name "Humus" tends to be taken. So I will be known as "_Humus_" on twitter. Back in 1998 or so when I picked up this nickname it was rather unique. It was never taken if I signed up for something. Guess I didn't compete with as many people back then as with the global mainstream services of today, besides probably being more of an early adopter back then.
[
2 comments
|
Last comment by Dwarden (2011-04-05 15:59:43)
]
---
Wedding photos
Sunday, February 27, 2011 |
Permalink
As I mentioned earlier on this site, I got married on October 23. That was four months ago, so it's about time I got all those photos posted here. Well, finally, here they are, so enjoy!

[
4 comments
|
Last comment by Ray Bans Sunglasses (2016-05-27 15:36:26)
]
---
My first 1K demo
Sunday, February 13, 2011 |
Permalink
Even though I have written demos for over a decade now, I have never been part of the demoscene, never gone to a demo party, and only once in a long while have I ever really run the demos that come out of the demoscene. This tends to surprise people when they get to know me if they happened to have followed my site before. In general, I've been more interested in pushing the boundaries in terms of visual quality and performance in general, rather than squeezing the most out of a particular machine or shoehorning things into tiny executables. I did at some point in my early years give 4K demos a try, maybe around 1999 or so, but I gave up pretty quickly. With even an empty main() I got an executable that was 27KB IIRC. So I figured I had a few things to learn. Well, skip forward to 2011 and I got a renewed interest in the subject, and after a little research on the subject I was up and running with a simple OpenGL app that compiled to like 950 bytes or so. Given the small size I thought it would be cool to aim for 1K instead of 4K since that was within reach.
So I made another Mandelbrot viewer, since it's something relatively compact I thought I would be able to do quickly. A Mandelbrot viewer is perhaps the most original idea, I mean, it's not something that hasn't been done before, in fact I've done several myself before, although this one has the smoothest gradients I've managed to make so far.

However, the project took far more time than I had originally anticipated. Once it was visually and functionally complete, I was somewhere over 1400 bytes. In the beginning it was rather quick to trim it down, shaving off dozens of bytes with every change. Until I got down to like 1100 bytes, after which I was happy to cut off another 5-10 bytes after an hour's work. Eventually after I got down to 1045 bytes I got kind of stuck and rewriting it all in assembly might have removed another few bytes, but I wasn't sure if it would be enough to shave off 21 bytes, so instead I changed the functionality a little. Thus there are two versions of the executables, one that's small enough to fit within the 1K limit, and one that contains the originally intended functionality, and thus is like 55 bytes larger.
If anyone knows any good tricks for slimming it down further that I might have missed, please let me know.

Update 2011-02-14:
Some sources I used to get started on this project:
1k/4k demo framework and examples
Crinkler
Crinkler secrets, 4k intro executable compressor at its best
Graphics Size Coding
[
23 comments
|
Last comment by Nuninho1980 (2016-07-30 15:51:09)
]
---
More pages:
1
2
3
4
5
6
7
8
9
10
11
...
21
...
31
...
41
...
48